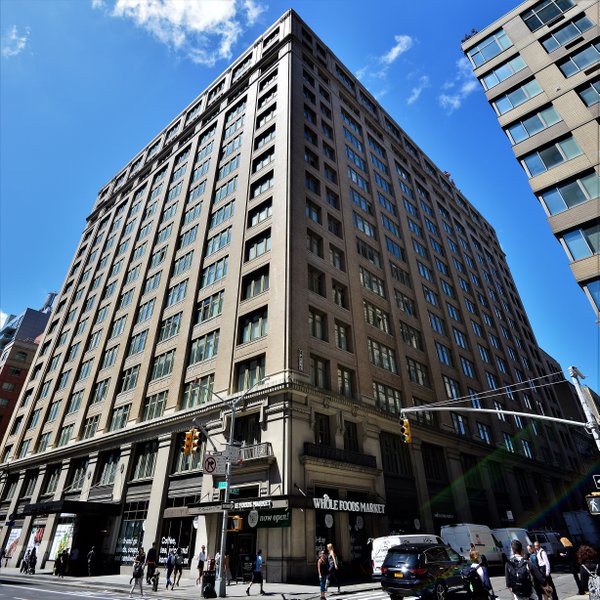 About The Chelsea Mercantile
Built in 1908, the 19-story pre-war condominium at 252 Seventh Avenue in Chelsea is prime real estate for homeowners looking to turn the clock back on Manhattan's storied history. The Chelsea Mercantile in Downtown Manhattan started out as a woolens building before transforming into the Veteran's Administration Building following the conclusion of WWII. Now home to luxury condos, The Chelsea Mercantile evokes the nostalgia of an America long gone while providing residents with top of the line luxury that Chelsea is known for.
The 351 spacious units at 252 Seventh Avenue are wrought with a distinctive character that sets The Chelsea Mercantile apart. Each room features soaring ceilings that add majesty to the exposed brick walls and fireplaces. The condominium's eventful history shines through the skylights and classic rotunda. This evidence of era's past does not diminish the apartment's luxurious qualities. Top-of-the-line appliances decorate the kitchen and washers and dryers give residents the standard of living they have come to expect from a Chelsea listing.
The most unique amenity at The Chelsea Mercantile is the ground level Whole Foods Supermarket. Residents at 252 Seventh Avenue no longer have to brave the chaotic streets of Manhattan to do their shopping. The condominium is also equipped with a 24 hour doorman and concierge service, a private parking lot located inside the building, a full service gym, 10,000 square foot roof deck and a children's playroom. The Chelsea Mercantile has the benefit of being within walking distance of the Chelsea Piers as well. Those looking to soak up Chelsea's atmosphere will love the proximity to both the Flatiron District and the beautiful art galleries of Downtown Manhattan.
Interested in Buying or Renting in The Chelsea Mercantile?
There are currently 7 units for sale and 5 units for rent in the building. Please click on the links below to get more information about the availabilities in The Chelsea Mercantile and we will connect you with a buyer's agent.